Help me share info about art and heritage crime with the world
[Photo by Emmanuel Petkas]
Background to a Request
About 6 years ago I started a personal project to save popular media articles about art and heritage crime in what I thought was going to be a private database. While I was doing this, it occurred to me that others might be interested in the art crime news of the week, so I started posting weekly news round-ups here on my site, and sending them out via an email list. As my database grew larger, it occurred to me that others might want to use it for research purposes and that I should find a way to share it. From there, the websites Culture Crime News and Stolen Gods were born. Two searchable databases of popular media articles on all sorts of things related to art and heritage crime, and a bit beyond.
These websites are hard work. Culture Crime News now contains nearly 9800 articles and, while I have had short term volunteers help me with the site in the past, for the most part I have entered these by hand. This is not part of my job. I am not paid for this work. I pay for the server costs etc. Why? Because years ago I promised myself that I would share whatever data I could with the world. It's good scholarly citizenship. I'm saving this data for myself, and taking some extra steps to make that data open, useable, and useful to others is the right thing to do.
So, I do this all in my spare time. I never had much spare time, and sometimes I have no spare time. When I have no spare time, Culture Crime News doesn't get done and gaps form in the database. You can see on the Culture Crime News website exactly when I have had no time: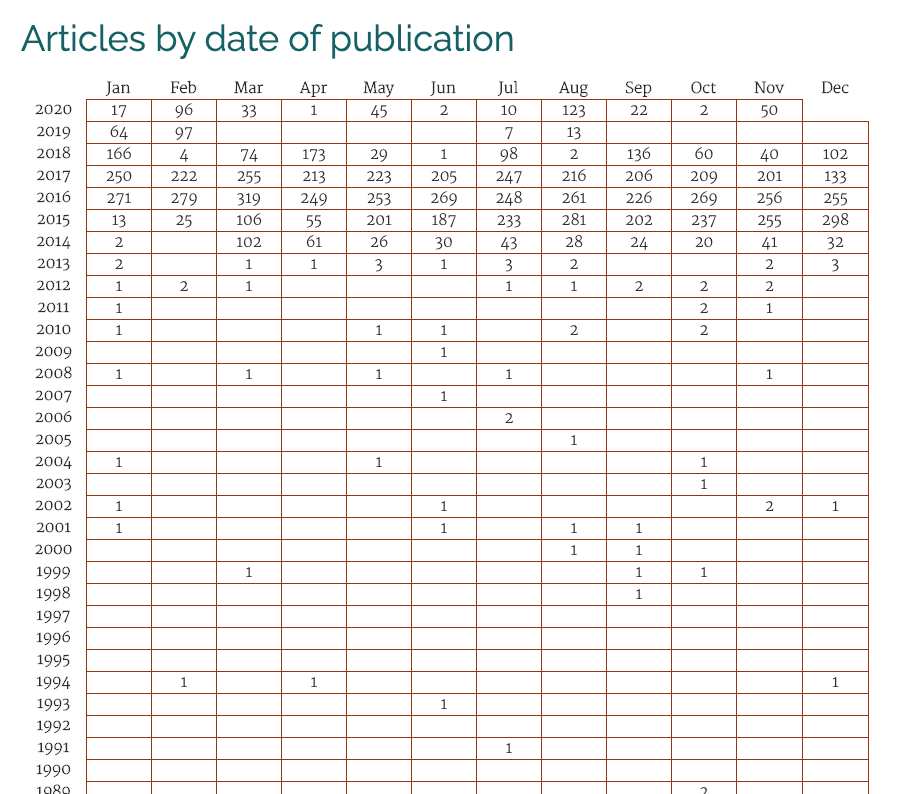 You can see that there's very little before 2014 when I started the database, and not a lot for 2014 itself because I was finding my feet. for Jan and Feb of 2018 I was out on fieldwork. For May through August 2018 I had morning sickness and could do nothing but lay in bed watching mindless sports and eating Haribo Starmix. For all of 2019 I was on maternity leave. March 2020 onward was Coronavirus.
Wouldn't it be nice to fill those gaps? Realistically I'm not going to do it. I have less time every day than I did the day before.
Culture Crime News Seeks Volunteers
Every project needs a snappy name, so I'm calling this the Culture Crime News Fill in the Blanks Project. I am looking for a handful of interested people who both have an interest in this field and who have time on their hands to hunt down online media articles to fill the gaps in the Culture Crime News database. This will be a combo of searching Google News for keywords restricted to certain dates and then entering them in to a spreadsheet. It isn't very exciting work, but you get to read a bunch of art crime news and you get the satisfaction of knowing that the next time you or anyone else uses the Culture Crime News database, it will have more in it.
The Ideal Volunteer:
Is interested in art and heritage crime topics
Has a background in that specifically or in a field that is closely related
Is able to devote at least 10 hours to this; there's certainly more work than that but that's about the smallest chunk of work I can offer
Doesn't need a lot of hand-holding: I don't have more or my time to devote to this so they have to be a 'hit the ground running' sort
Bad news, there is no pay for volunteering. I know, I know, but this is a purely volunteer gig for me as well. No one is getting paid here.
Here's what I can offer:
You acknowledged on a newly-created section of the Culture Crime News "About" page
A line on your CV, we can make sure the gig sounds awesome
A recommendation from me if and when you need it…within reason of course. I can recommend you for jobs from this, but probably not to a PhD programme because that would be weird.
How to Volunteer
To manage expectations, the last time I asked for volunteers for a project, there was a massive response. Too many volunteers for the Fill in the Blanks Project would be counter productive. At the moment, I am going to take on no more than 5 volunteers, and I'm going to pick them based on the criteria listed above. Please don't be offended if I don't pick you for this project: there will be more opportunities in the future.
So if you want to volunteer, please
Then tell me in the body of the email
What experience do you have on the topic of art and heritage crime?
How much time can you devote to this in the coming few months (either total or per week)? Be realistic here.
Why are you interested in volunteering?
What are your future plans in this area?
Please send the email by Friday 27 November as I want to get started on this in early December. I won't be accepting volunteers for this project after that date.