Is it real, is it fake, is it stolen, and where IS it? A vanishing painting and an interesting story.
The Vanishing Man: In Pursuit of Velázquez by Laura Cumming
2016, Sarah Crichton Books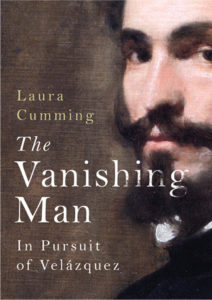 Last weekend I took the train from Partick to Pollokshaws West to visit the Burrell Collection on its last weekend open for about the next four years. During the train ride I (1) lost a glove and (2) entertained myself by reading The Vanishing Man: In Pursuit of Velázquez by Laura Cumming. As my train pulled into the station I marked my place in the book with my one cold, un-gloved hand. On that page, Sir William Stirling-Maxwell, noted expert in Spanish art in the land, had declared a possible Velázquez owned by the book's protagonist to be a fake. I scuttled off to the Burrell Collection, didn't get to see their Nazi-looted tapestry (not on display) and posted a series of heavily-filtered photos of ancient stuff on the internet.
Upon leaving the Burrell I decided to visit Pollok House. I knew nothing about it other than it was a few steps away, past some highland cows, and that it is a National Trust property. At that point I had two weeks left of a one year National Trust membership so I decided to pack one more country house in there. I walked in, went up the stairs, and was told by a docent to watch a 12 minute video about the house's art collection. About halfway through the video I realised…
"I'm in Sterling-Maxwell's house…"
"This is the Spanish art collection that is discussed in my book…"
"It's all around me…"
Whenever I find myself in the centre of coincidence it feels as if I have been pushed out of time. I know our meaty primate brains are tuned to detect patterns so that we can suss out where tasty berries are and where large predators are not and that we're rewarded with a sense of meaning and purpose when we recognise a pattern, even when that pattern is false. It was chance that I picked up "The Vanishing Man" rather than "I Contain Multitudes", the other book I was reading at the time, and brought it with me and chance that brought me into the home of a character in the narrative. I know that. Plus I read arty books and go arty places so cross over is to be expected. I know that too.
Yet the feeling of meaning in the coincidence renewed my interest in an already interesting book. I spent much of the next day reading it. In bed. With coffee. Safe from the uncanny.
In The Vanishing Man we follow the lives of two men: the painter Diego Velázquez and a Reading-based book seller named Jonathan Snare. In 1845 Snare scores what may be an authentic Velázquez for very little money at an estate auction. His provenance research ties the painting to the Earl Fife which eventually causes him a whole host of problems. Art crime problems. Legal problems. Money problems. Problems.
This case exemplifies many of the complexities of art ownership and sale. Without clear records of transfer and sale that lead all the way back to Velázquez, doubt creeps in. The market for art is opaque in so many ways. Who is right? Who can be believed? Stirling-Maxwell, whose house I have very much visited, thought the piece was a fake, and in the mid 19th century connoisseurs were our only forgery detectors. The executors of the estate of the Earl Fife thought, or at least argued in court, that the painting was purloined: that it had either been transferred unlawfully or had been straight up stolen. Snare, of course, thought the painting was his and that it was authentic. He went bankrupt over it.
Beyond my brush with the slightly strange, this was a book layered with provenance research; it was fascinating. The author shares her own delightful obsession with the story, tracking down scraps of information, lamenting dead ends. There's nothing I love more than obsession. Gosh, I know what it's like.
There is pretty much nothing more that I could ask for in a book. I want all of my weekend reading to be like The Vanishing Man: interesting information twisted together to form an interesting story peppered with a bit of art world scandal. I really couldn't ask for anything more. I'll be buying whatever Cumming writes next for sure.