The 'death' of 20 of history's most important buildings.
Fallen Glory: The Lives and Deaths of Twenty Lost Buildings from the Tower of Babel to the Twin Towers by James Crawford
2015, Old Street Publishing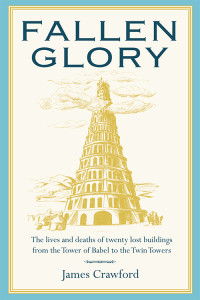 Heritage destruction was the unfortunate constant throughout 2015. Nepal, Iraq, Yemen, Syria: it seems like humanity and nature conspired to put on a destructive year. I am sure many of us feel like it is the most destructive one we've had and, good gosh, what does 2016 have in store…
James Crawford's excellent new book Fallen Glory puts those feelings into perspective. Through the birth, life, and death stories of twenty significant buildings, one starts to see destructive forces as a timeless constant, part of the ebb and flow of culture. Presented chronologically but with cases that span the globe, the reader can't help but see the end of a powerful building as a beginning in disguise. The Tower of Babel falls, sure, but we get to turn the page and see what is next.
Fallen Glory is structured as 20 largely-independent chapters, each of which focuses on a particular building. This means that you can read one chapter in an evening, becoming totally immersed in that world, mourn the passing of the building, and move on to something else the next night. It also means you can read random chapters out loud to your family as you are driving from New Plymouth to Auckland for the holidays. I can personally vouch for both of those. The family, and I, were entertained.
Because Crawford is a good story teller; goosebumps on my arm level at times. Drawing upon his archaeological background, his stories are stratified, they are layers that rest upon each other in an interesting way, their interrelatedness revealed through reading. Each chapter (and each building) of Fallen Glory caused multiple exclamations of "wow", "no way", and "I didn't know that", as I read it on my tummy, in the grass, in the Taranaki summer sunshine. I kept a running list of stuff to read more about later because Crawford's stories, although complete in their own right, very much left me wanting more. This is a good thing.
The book wasn't solely western! Sure, there was a strong thumb on the scales for the West and the predictable bits of West Asia and, really, there always is. Any archaeologist or historian who works in NOT those places notices the imbalance everywhere. But Crawford's balance was only a bit tipped. There are tales of buildings in India, Mongolia, Hong Kong, Peru, the last of which I particularly appreciated, particularly loved, and particularly made people listen to.
Poor Africa was left out entirely, unless you count Ancient Egypt as Africa and, when we are talking about representational equity, you shouldn't. Great Zimbabwe would seem an obvious choice there but, heck, you can't win 'um all; it is good how it is.
Oh! And there was even a surprise ending. The subtitle implies that we end with the World Trade Center, a chapter which does follow very nicely from a previous chapter about modernist social housing failure in St Louis. But no, the book ends with the death of one of my own buildings and perhaps the death of one of yours as well.
Crawford discusses the creation of online "home pages" via Geocities, and then the day that Geocities was wiped out of existence, a monumental act of destruction which took with it the second website I ever made back in the late 1990s when I was in high-school.[1] Well done, Crawford. That was pure nostalgia for me.
This is the perfect book to give someone as a gift. I know this because everyone who came in contact with it as I traveled around New Zealand wanted it. So much thumbing through, so much "Oh! Tell me what is in that chapter!", so much "Say, are you leaving the book here?" It is quite pretty, thoughtful in every way. Get one for yourself then pass it on to a friend.
It is very hard to make sense of the images of destruction flashing across our computer screens. While I don't think Fallen Glory will make us feel better about any of it, the 20 tales in this book may help us to take even just a small step back. It's reflection reading for anyone following the heritage news these days.
All told, this is the right time to read this book.
[1] The first one was on Fortune City which, as of the time of writing, still exists in some form, nearly entirely without graphics, but with totally embarrassing teen angst poetry, web rings, a mailing list, and a forum. A FORUM. You better believe that there is an animated gargoyle GIF next to an animated rose GIF above some poems and on a lime green background. Link? Heck no. No.