Patterson was arrested on the 28th of March at the Madrid airport by Interpol based off of warrants from, as you can imagine, Guatemala and Peru. The Guatemala warrant has been outstanding since 2008 and there he is wanted on charges related to 269 objects that were either seized from Patterson in Spain or from his car as he allegedly made a crazy drive to Germany with his car filled with illicit antiquities that were pending further investigation (yes, he decided to cross some MORE borders with them). The Peruvian charge may be from the same string of incidents or from a 2004 warrant (see below).
Patterson has been involved in some crazy stuff in his day and I am not even sure that the 2008 raids/returns/etc. thing was the craziest. Mexican news source El Universal's words, not mine:
In 1970 he was also accused of trying to sell a fake Maya fresco in the United States. In his defense, the art dealer said the fresco had been authenticated by an archaeologist.
Years later, Patterson was again accused of forgery. This time an Olmec colossal head, which he acquired in the early '90s from a craftsman from San Andres Tuxtla, Veracruz, and then tried to sell for nearly 20 million dollars.
His criminal record also includes the illegal trafficking of antiquities in Dallas in 1985, and a scam to sell works attributed to Dalí in 1999.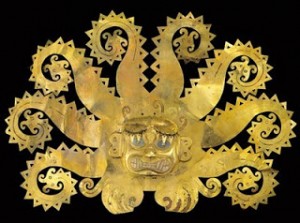 Other sources say that in 1986 he was arrested in the US for smuggling endangered sea turtle eggs. What a guy!
He was, allegedly, heavily involved in the smuggling of the fantastic octopoid god headdress from the Peruvian site of La Mina. This depends on how much you want to listen to Michel Van Rijn, or at least sort through what he says. However, yes, Patterson.
I've written a draft of an encyclopedia entry on La Mina for our website which isn't quite ready yet, but I can give you an excerpt from what will go up there eventually:
Perhaps the most famous object from La Mina is a large golden headdress which depicts a tentacled zoomorphic sea god. The headdress was most likely removed from La Mina during the initial 1988 looting of the site (Laville 2006). It seems to have been purchased by the collector Raul Apesteguía who sold it on to Costa Rican dealer/collector Leonardo Patterson (O'Brien 2006). Apesteguía, who is thought to have purchased other La Mina objects, was brutally murdered in his home on 26 January 1996. Apesteguía was beaten to death and six boxes of pre-Conquest gold and ceramics were taken from his collection (O'Brien 2006). The police determined that Apesteguía died at the hands of an antiquities trafficking mob he was associated with. An August 1996 raid at Lima's international airport produced three objects taken during the Apesteguía murder, along with 445 other artefacts which were in the process of being shipped to French dealer Yves de Parceval (O'Brien 2006).
The sea god headdress, along with other Peruvian objects linked to Apesteguía, appeared in a 1997 catalogue  that accompanied exhibition of Patterson's collection at the Museo do Pobo Galego in Santiago de Compostela, Spain (O'Brien 2006). By 2006 the piece was in Belgium and on the market. The headdress was recovered by London's Metropolitan Police Force and was returned to Perú in August 2006 (Laville 2006). According to the Guardian 'a London solicitor's firm had facilitated the return on behalf of their client after an intelligence-led investigation' (Laville 2006). Reportedly, the piece was offered to an undercover agent who agreed to pay an unnamed collector £1 million for the object if the exchange was made in London (O'Brien 2006). The piece was moved to London from Belgium where it was seized by police. Several reports state that a key player in this sting was the Dutch art dealer Michel van Rijn and, in turn, van Rijn has stated in interviews that Patterson was the target of the sting (for example, see Lucena 2006).
Based on the contents of the 1997 catalogue and at the urging of Walter Alva, a Peruvian court issued an arrest warrant for Patterson in 2004 (Associated Press 2008). As a result of that investigation, in 2008, the government of Spain officially returned forty-five Peruvian cultural objects that had been seized in the 2007 raid of a warehouse owned by Patterson, (Associated Press 2008). Twelve of these pieces are thought to have come from Sipán but many of the others, including gold masks, jewellery, and ceramics are thought to have come from La Mina (Associated Press 2008). Patterson claimed that all the objects were on loan from Roeckl (Associated Press 2008).
I am quite surprised that Patterson's arrest hasn't really hit the English-language news. Dude is a piece of work!
We have an article about Patterson that has been pending inclusion on the Trafficking Culture website for some time but it needs such constant update that we haven't be able to share it. You can read about some Olmec wooden sculptures form El Manatí, Mexico that were seized in the 2008 raid on Patterson's objects in Spain, however, and I will let you know when and if we can get his full bio, etc, up.