Now Guatemala starts the perilous process of getting it back
Yesterday it was announced that the fragment of Piedras Negras Stela 9 that was on sale at Millon Auction House, though physically on sale at Drouot, has been removed from the sale. The catalogue entry on the Drouot site has been scrubbed:

And a note reads: "La venderesse, l'Etat du Guatemala et Millon sont entrés dans un processus amiable. En conséquence, le lot 55 est retiré de la vente."
Drouot tweeted the news to me with the curious addition of "French & Guatemalan authorities have recognised the lawful and legitimate property of the fragment of stele to the seller."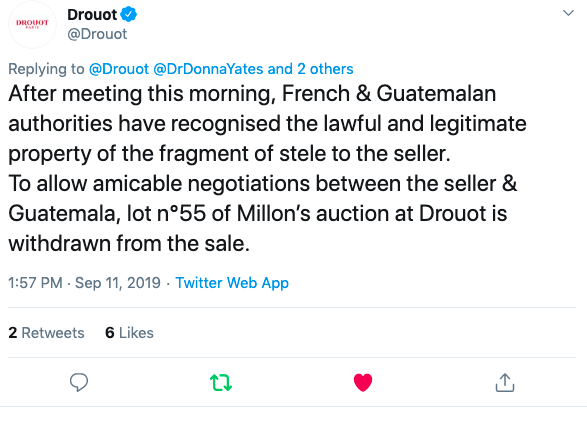 This was a bit of a surprise as Guatemala's Decree No 425 of 1947 clearly made the sculpture Guatemala's property, allows for no circumstance under which anyone in Guatemala can revoke that ownership, and outlaws all export. Because of this, I speculated back at them that Guatemala likely sees things differently. Sure enough, when I read Guatemala's official communication about the sale withdrawal last night, gone is any mention of the seller being the lawful owner, with negotiation for return being the focus. Further phone calls this morning confirm Guatemala rightly believes the stela is theirs.
While this is one small result in this case, we are very far from a resolution. It is notoriously difficult for countries to reclaim their stolen cultural objects from France. However much President Macron wishes to repatriate cultural objects taken during France's colonial period, for example, the law would need to be changed for that to actually happen. In a case such as this one which has nothing to do with France's colonial past, which is seemingly (due to the existence of photographs, records, applicable local law, and a bunch ornery Maya lovers) a cut and dry case, one bumps into even more obstacles. Guatemala is going to be facing things like statutes of limitations, concepts of good faith purchasers, and perhaps obligations to compensate sellers. It's a difficult road to navigate and it may be an expensive road to navigate.
The long and short of it is that while Piedras Negras Stela 9 will not be put on the auction block in a week's time, we may still lose it forever. Guatemala does not have the piece back and it can very easily slip through our grasp again, and disappear into the shady world of private ownership of what should be and, indeed in this case, what is public heritage. We can't let up pressure and the story is far from over here.
Journalists: this is just the start of the saga and I would love to see coverage of how difficult it is for countries like Guatemala to reclaim their stolen cultural heritage from the private art market. Please cover this. Please contact me about it and I can give you more quotes and put you in touch with more people about it.