All about the world's most stylish art cops.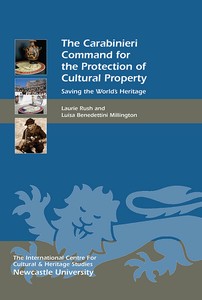 The Carabinieri Command for the Protection of Cultural Property: Saving the World's Heritage by Laurie Rush and Luisa Benedettini Millington
2015, The Boydell Press
The Criminology department that I work in must be getting to me. When I opened The Carabinieri Command for the Protection of Cultural Property, somehow I expected a hard-hitting sociological evaluation of Italy's famed heritage police. A critique of organizational culture perhaps… or survey data framed through some sort of analytical structure. Stats probably. I don't know. I just know that when the book came in the post to the Scottish Centre for Crime and Justice Research, I made sure to display it prominently on my desk so that colleagues who study serious policing stuff would see it. My desk is currently 44% 'LEGO' and 55% 'wooden models of Mexican archaeological sites'. I thought 1% 'policing book' might improve my street cred.
This isn't that book, but that's totally okay. Perhaps even better than okay. The Carabinieri Command for the Protection of Cultural Property is more of a first step. The book tells you who the Carabinieri are, what they do, how they do it, and where. It is descriptive, rather than analytical, but that is a contribution in itself for two very important reasons.
First, the Carabinieri fill a gap in our imagining about art crime investigation. People want there to be an international investigative force that goes around busting art criminals in perfect Hollywood form. I am asked about such a force all the time. From spectacular students to documentary production companies (who email me expecting me to work for them for free), no one can resist the idea of culture crime fighters and the stylish Carabinieri art cops are who they latch on to. Then there is more imagining and the Carabinieri morph into something unrealistic. Then we all start believing the unrealistic.
This is where Rush and Benedettini Millington's book is useful. With unwavering respect to the force, the authors carefully present what the Carabinieri actually are, not what we want them to be. That is not to downplay their work, rather to take a realistic but still reverent tone. Their database is at the core of their work, and research and relationships orbit around that core. Kicking in the door, zip-lining in wearing fashion house uniforms, and plucking a purloined Leonardo out of some crook's hand… not so much. Sorry everyone.
Second, the cultural property investigators on the Carabinieri are held up as the force to emulate, the model for global policing of heritage crime. Ministries of Culture the world over long to set up their own equivalent units, and we researchers suggest it pretty much every time someone asks us for "real world solutions to the problem". I spit out "a specialist police force" in seconds. Yet, there really isn't a lot of public info about exactly what the Carabinieri do and how they do it. Okay, maybe there is in Italian, I don't know, but there isn't in English and we all have to accept English is the language with the most reach. But now there is The Carabinieri Command for the Protection of Cultural Property, and in this sense it is an important, probably vital read.
Because this set-up isn't for every country. It is clear from The Carabinieri Command for the Protection of Cultural Property that their cultural property forces work pretty well for deep, sometimes very Italian reasons. This isn't something that the authors go into but it is pretty clear that the time, the devotion, the money that the Carabinieri cost for art stuff comes from an Italian cultural obsession with, well, art stuff. They've been into art stuff since ancient times. It is a strong component of Italian identity. That is not to say that the Carabinieri can't be exported, rather that having read this book and understanding better how they work, folks can better evaluate what form such an export should take.
Another thing that is great about the book: the short case studies. There are tons of them. They all have start, middle, and end because they represent policing successes. I've never heard of nearly all of these. I found myself bookmarking like a fiend to come back to all of them and find out more. One could totally skim all of the structure/function aspects of the book and still get much out of the cases. I really enjoyed them.
The book did make the massive mistake of printing URLs in the text, seemingly with the assumption that URLs are not ephemeral snowflakes: unique things that melt away in moments. Authors, trust me: that link will be dead before your book gets to print. Unfortunately for The Carabinieri Command for the Protection of Cultural Property that is exactly what happened on the URL that I checked.
On page 47, the authors direct us to http://www.chiesacattolica.it/beweb/UI/page.jsp?action=home. Well, actually, they direct us to "http://www.chie-sacattolica.it/beweb/UI/page.jsp?action=home" because there is a line break in the middle of the URL and when it was typeset a "–" was inserted…an error that made me actually moan out loud in the pub I was reading in and take a big gulp of my pint.
Anyhow, as you all can see: LINK ROT. There's nothing there. The link leading to where the authors intend is now http://www.beweb.chiesacattolica.it and who knows how long that will last. YOU SHOULD CARE ABOUT LINK ROT.
I have nightmares about link rot. I'm not even kidding. Permalinks people. And your own back ups. Your own backups.
Furthermore, there is a focus on website functioning and procedure, including things like filling out a form to request a password and so on. This is the sort of thing that does and even should change rather rapidly. Maybe everything in current Carabinieri tech works exactly as the authors saw it back in 2011 or 2013, but I sure as heck hope it doesn't. I hope they've progressed, and if they have the book is recording the past like the present. It is a delicate balance here, but for something as permanent as a book I don't think they should be including URLs or talking about password request forms, at least not in an early chapter. Maybe an appendix at the back with a big disclaimer that says "valid as of x date".
It's pretty interesting thinking about the web's impermanence being permanently recorded in a book. Really, though, that is minor. I don't think anyone is going to be buying the book for the links.
Is this a book your Uni library should have? Probably. Request they buy it. It's good reference material. Citable like wow. It'll be in my biblios for sure.
Is this the book I am going to hand students whenever they ask me about heritage policing? Totally.
Should you buy this book? I can think of a lot of people who probably should and, after reading this, you likely know who you are.